Washington State Bar Association Presents Judge Michael Evans with Local Hero Award  |  June 23, 2023
VANCOUVER, Washington, June 23, 2023 – The Washington State Bar Association today presented Hon. Michael Evans with the Local Hero award in recognition of his professionalism on the bench and years of dedication to access to justice in Cowlitz County.
"Judge Evans uses his place on the bench as a long-time advocate for criminal justice reform and empathetic jurisprudence," said WSBA President Daniel Clark. "His progressive approach to juvenile delinquency, mental health, and substance-abuse issues exemplify his commitment to redirecting lives."
The Local Hero Award is presented to those who have made noteworthy contributions to their communities. The Local Hero award was presented during a luncheon at the Board of Governors meeting in Vancouver. The Cowlitz-Wahkiakum Bar Association nominated Evans for the award.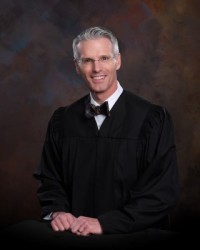 Evans has served as a judge in Cowlitz County Superior Court since 2010 and previously as a Cowlitz County District Court judge. He created and ran the county's first mental health court. He currently serves as presiding judge in juvenile court. Prior to taking the bench, he served as a deputy prosecuting attorney for Cowlitz County in both criminal and civil matters and practiced privately in criminal defense, family law, and civil litigation.
Evans graduated with a Bachelor of Arts degree from Brigham Young University and received his law degree from Seattle University School of Law, graduating cum laude.
In his nomination, Cowlitz-Wahkiakum Bar Association Treasurer Tom Lee wrote of Evans' empathy and keen judicial professionalism, which earned him a seat on the Ethics Advisory Committee for the Washington State Supreme Court.
"From his involvement in the community to his dedication on the bench, especially for access to justice issues, Judge Evans is an outstanding member of our local bench who deserves prominent recognition," Lee wrote. "His dedication to constructive handling of juvenile delinquency matters and progressive approach to therapeutic court cases (i.e., Mental Health, Drug Court) show Judge Evans' deep commitment to the pursuit of equal justice."
Outside the courtroom, Evans is a member of the Ethics Committee of the Superior Court Judges Association, a member of the Ethics Advisory Committee, a member of the Commission on Judicial Conduct, and former ethics faculty for the Judicial College. He also makes frequent appearances at community events and service organizations, such as the Rotary Club of Kelso, Lee wrote.
About the Washington State Bar Association
The WSBA operates under the delegated authority of the Washington Supreme Court and exercises a governmental function authorized by the Court to license and regulate the state's nearly 40,000 legal professionals, including lawyers, limited practice officers, and limited license legal technicians. The WSBA both regulates legal professionals under the authority of the Court and serves its members as a professional association — all without public funding. The WSBA administers the Bar admission process, including the bar exam; provides record-keeping and licensing functions; administers the lawyer discipline system; and provides continuing legal education for legal professionals, in addition to numerous other educational and member-service activities. The Bar's mission is to serve the public and its members, to ensure the integrity of the legal profession, and to champion justice.