The WSBA's MentorLink Mixers are unique, free-to-attend, one-time events that bring together people with similar interests in the legal profession. Experienced table coach mentors share their knowledge with mentees about how they navigated their careers in an informal setting. The primary goal for these mixers is that attendees leave educated, inspired, and encouraged to reflect on their own goals as they grow in the legal profession. Should a table coach and mentee decide to continue a mentorship relationship after the mixer, additional information on the self-structured mentorship program for MCLE credit is available.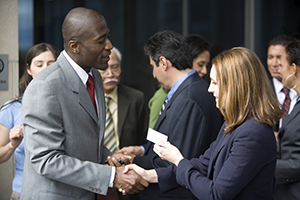 The Next MentorLink Mixer
Date: Wednesday, Jan. 22, 2020




Time: Noon-1:30 p.m.
Location: WSBA Offices, 1325 Fourth Ave., Suite. 600, Seattle, WA 98101
Topic: Things I Wish I Knew Before Starting a Solo Practice
Do you have a solo practice or are you thinking of making the jump? Start 2020 with real-world insights from solo practitioners in-the-know! You'll receive one-on-one tips about how they navigated their careers and you'll learn things they wish they knew before starting a solo practice. In collaboration with the WSBA Solo and Small Practice Section, these mixers are popular – be sure to register before we reach capacity!
Registration closed on Jan. 8. Click here to join the waitlist.
Upcoming MentorLink Mixers

Check back for updates.