Introducing the WSBA Professionalism in Practice Award
The PiP Awards honor Bar members who exemplify professionalism. Lawyers, judges, staff and the public are encouraged to nominate a Washington legal professional for a PiP award if they believe that person's actions significantly advance professionalism in the legal community.
Nominations are accepted and awards are presented throughout the year. The PiP Awards formerly were known as Random Acts of Professionalism.
---
Our Latest PiP Award recipient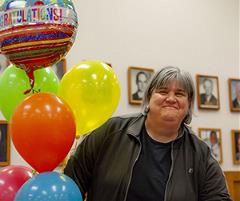 PiP PiP hurray for Kitsap County Senior Deputy Prosecuting Attorney Kelly Montgomery, the most recent recipient of WSBA's Professionalism in Practice Award.
In a joint nomination for the award, Kitsap County Chief Deputy Prosecutor Chad Enright and Sr. Deputy Prosecuting Attorney Coreen Schnepf said, "Young, older, inexperienced, and experienced attorneys are constantly in her office seeking her advice on legal and evidentiary issues or advice on charging decisions and trial work."
---
Know of a legal professional deserving of the Professionalism in Practice Award?
Fill out this nomination form and be sure to hit "save" before emailing it to barleaders@wsba.org.
Or mail your nomination form to:
Washington State Bar Association
Attn: Communications Department — PiP Award Nomination
1325 Fourth Ave., Suite 600
Seattle, WA 98101
Previous recipients for the Professionalism in Practice Award
Bill White of Tacoma