The WSBA Professionalism in Practice Award
The PiP Awards honor Bar members who exemplify professionalism. Lawyers, judges, staff and the public are encouraged to nominate a Washington legal professional for a PiP award if they believe that person's actions significantly advance professionalism in the legal community.
Nominations are accepted and awards are presented throughout the year. The PiP Awards formerly were known as Random Acts of Professionalism.
---
Our Latest PiP Award Recipients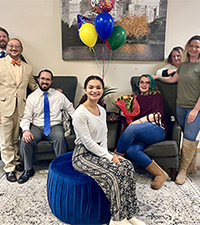 PiP PiP hurray for Jason Smith and Jessica Marx of North County Public Defense in Bellingham, the most recent recipients of WSBA's Professionalism in Practice Award. WSBA's PiP Awards team surprised the two teammates at their firm in November 2022. Smith and Marx were nominated for the PiP Award with adulation from a client for their "amazing work to better help my situation." The client continued, "They did not hesitate to strategize with me about the best potential outcome... Within a month, my legal situation has been resolved and my fear of the future has disappeared. I can return to my life without the stress of tomorrow constantly strangling my thoughts.... As a minority citizen in this nation, and as someone who admires jurisprudence in this country more than anywhere else, I can say without a doubt it is lawyers like Jason and Jessica that make me believe defense attorneys are angels in human form."
Pictured (left to right) are Robert Lockhart, former WSBA President Rajeev Majumdar, Jason Smith, Heaven Detwiler, Jessica Marx, Donna Gibson, and Heather Martinson.
---
Know of a legal professional deserving of the Professionalism in Practice Award?
Fill out this nomination form and be sure to hit "save" before emailing it to barleaders@wsba.org.
Or mail your nomination form to:
Washington State Bar Association
Attn: Communications Department — PiP Award Nomination
1325 Fourth Ave., Suite 600
Seattle, WA 98101
Previous recipients for the Professionalism in Practice Award
Bill White of Tacoma