Rajeev Majumdar Becomes President-Elect of Washington State Bar Association │ June 13, 2019
With a history of community service and volunteering, Majumdar outlines a policy of transparency and responsibility.
SEATTLE — The Board of Governors of the Washington State Bar Association has elected Rajeev D. Majumdar to be its president-elect. He was elected by a majority of the board at its May 17 meeting. It is believed that Majumdar will be the country's first state bar president of South Asian descent.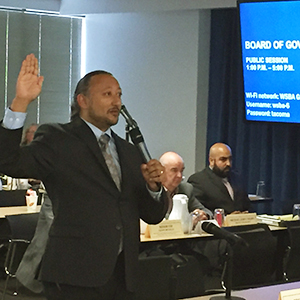 "I believe that our primary duty as officers of the court, and in the continued service of our state and country, should be ensuring access to impartial justice for all people, and, as leaders of the Washington State Bar Association, creating an environment that empowers our members to create that access," said Majumdar. "Part of protecting such access to justice is warranting that our leadership contains diverse perspectives and experiences."
Majumdar serves the public as the prosecuting attorney for the City of Blaine and as the special prosecuting attorney for the City of Bellingham's Mental Health Diversion Court. He also maintains a private practice with The Law Offices of Roger Ellingson, P.S., in Blaine where he has worked since 2008. As WSBA's new president-elect, Majumdar has outlined a series of policy points focused on transparency, fiscal responsibility, and membership advocacy.
Majumdar has a long history of community service, volunteering with organizations such as the New Orleans Legal Assistance Corporation and the Pro Bono Project in New Orleans, where he helped victims of Hurricane Katrina; as a board member of Sun Community Services, which provides transitional housing for the mentally ill in Whatcom County; and other pro-bono work. He also was the recipient of the 2015 WSBA Local Hero Award for his work with indigent clients.
"I love this organization and I am fully committed to be an agent of empowerment for the board and the issues it wishes to examine," said Majumdar.
Majumdar's term as president of the bar begins in October 2019 and runs through September 2020. He will succeed current WSBA President Bill Pickett.
About the Washington State Bar Association
The WSBA operates under the delegated authority of the Washington Supreme Court and exercises a governmental function authorized by the Court to license and regulate the state's nearly 40,000 legal professionals, including lawyers, limited practice officers, and limited license legal technicians. The WSBA both regulates legal professionals under the authority of the Court and serves its members as a professional association — all without public funding. The WSBA administers the Bar admission process, including the bar exam; provides record-keeping and licensing functions; administers the lawyer discipline system; and provides continuing legal education for legal professionals, in addition to numerous other educational and member-service activities. The Bar's mission is to serve the public and its members, to ensure the integrity of the legal profession, and to champion justice.