Construction Law Section
Construction Law Section members share common interests on a wide variety of issues related to the construction industry. The Section promotes the education of members in laws, regulations, and administrative and court decisions and the sound development of relevant laws and regulations, cooperating in that endeavor with the American Bar Association and its sections while also promoting the objectives of the Washington State Bar Association. Section members engage in a broad spectrum of business activities relating to contract drafting and negotiation and bidding processes, as well as all varieties of dispute resolution including arbitration, mediation, litigation, and bid protest.
The Section provides benefits to members through an annual all-day CLE, special topic forums several times a year, a writing competition for law students, and a newsletter published periodically. The Section also meets several times a year for an informal discussion with a special topic speaker, followed by a social hour.
Construction Law Section members also enjoy the benefit of access to editable versions of the construction-related forms, documents, and agreements (see below), developed in collaboration with local construction law professionals, which include a sample design services agreement, model residential construction contracts, model residential design-build contracts, jury instructions, a lien/claim waiver, and a settlement agreement. Construction Law Section members can access this benefit by logging in to the WSBA website and visiting the Members Only Resources page. If you are a current Construction Law Section member, but do not have your log-information, please email sections@wsba.org.
---
REGISTER NOW! Construction Law Mid-year CLE
The WSBA Construction Law Section's annual mid-year CLE will be held as a full-day webinar on Friday, June 10, 2022.
Co-chaired by former WSBA Construction Law Section Chairs, Ron English and Bart Reed, this CLE is focused on construction law updates, public works issues and judicial perspectives on litigation. The program will also include a Construction Law Section update by the current Construction Law Section Chair, Colm Nelson. The seminar has been accredited for 7 CLE credits in Washington and Oregon (6 general credits and 1 ethics credit).
Topics include:
One-hour ethics discussion
Annual Washington construction-related case law and legislative updates
Discussion of bid and proposal protests and litigation
Notice and termination Issues
Judicial panel perspectives on how trial and appellate practice continues to evolve in response to COVID
UCC applications to construction projects
COVID-19 impacts on the construction industry and workforce
Developments in Design Build and GCCM contracting
---
Shape Your Section for the Future: Apply Today to Become a Section Leader
Applications open on March 14, 2022, and close at 5 p.m. April 29, 2022.
The following section executive committee positions are open for applications. All terms begin Oct. 1, 2022.
Vice Chair: one-year position beginning Oct. 1, 2022, and ending Sept. 30, 2023.
Secretary: one-year position beginning Oct. 1, 2022, and ending Sept. 30, 2023.
Treasurer: one-year position beginning Oct. 1, 2022, and ending Sept. 30, 2023.
At-Large Member (three positions open): three-year positions beginning Oct. 1, 2022, and ending Sept. 30, 2025.
To learn more about roles and expectations for serving on the section executive committee, review the volunteer position description. This volunteer position description provides a general overview of section executive committee positions and may differ for each section.
Eligibility Requirements
Applicants must be a current section member and should be eligible to vote in accordance with the section's bylaws.
Application Process
Go to the myWSBA portal to complete the online application for open executive committee positions. The Section has requested that each applicant submit a statement of interest with your application. This document can be uploaded with your online application (pdf format only). Please be advised that application materials may be posted on this website for public viewing.
Note: If you are applying for more than one position on this or multiple sections' committees, you must complete and submit all applications at the same time, as you will not be allowed back into the portal at a later time. Please make sure you are completing the applications within the application window for all of the relevant sections.
Nomination Process
All applicants will apply through an electronic application process administered by the WSBA. The nominating committee shall file its report in writing with the Secretary of the Section, making recommendations for all the Officers and At-Large executive committee members to be elected at least by the last day of March. The Secretary shall forward copies of such report to all members of the executive committee promptly after the report is filed with the Secretary.
Alternate Nomination Process
Additional nominations may be made after submission of the nominating committee's report by filing a petition with the Secretary of the Section, at least thirty (30) days in advance of the election and signed by at least fifteen (15) members of the Section in good standing, nominating a person qualified for any of the positions to be elected. The executive committee will approve a list of nominees for each open position which shall be the basis for WSBA's electronic voting as per Section 7 hereunder. In addition, a section member may self-nominate by submitting an application.
Elections Process
All voting members of the section will receive an electronic ballot sent to their email in June 2022. Visit this webpage in early June for election updates and voting instructions.
Questions?
For more information about the Section, its executive committee roles, and elections process, please review the Section's bylaws. You may also contact any member of the current Section Executive Committee or email sections@wsba.org.
---
The Spring 2021 edition of the Construction Law newsletter has arrived!
Read it here.
---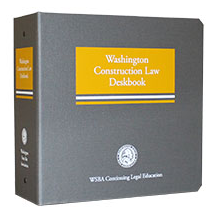 This single-volume ready resource on every facet of construction law was developed in collaboration with the Construction Law Section.
Editor-in-Chief: Ronald J. English
Editorial Board: Jennifer McMillan Beyerlein, John Evans, Brett M. Hill, Robert L. Olson, Thomas H. Wolfendale
Review table of contents and authors.
Subscribe to the online version.
---
Forms Available Online
Design Services Agreement
View the Construction Law Section's model Design Services Agreement.
Model Residential Construction Contracts
The Construction Law Section prepared these contracts as a public service to the construction industry and its residential consumers and contractors. For most people, their single largest asset is their home. Construction and remodeling of residences is a major industry in Washington. These model contracts were developed specifically for residential construction services.
The Lump Sum Contract, also known as a Fixed Price Contract: The owner agrees to pay the contractor a specified amount for completing the scope of work without requiring a detailed cost breakdown.
The Cost Plus Contract: The owner pays for the actual costs of the work, plus a fee for the contractor's services.
Model Residential Design-Build Contracts
The Construction Law Section is pleased to offer two new forms that can be used to provide a solid framework for projects in which a contractor performs both the design and build. These model contracts help homeowners and builders allocate risk and responsibilities.
Cost Plus Contract: Where the design-builder estimates the project cost, but the actual cost is ultimately determined by the total costs of design services, labor, and materials supplied by the design-builder.
Lump Sum Contract: Where one lump sum is paid by the owner as required by the contract.
Jury Instructions and Guide
Members of the WSBA Construction Law Section prepared the sample Jury Instructions as a courtesy, for section member use only. The sample jury instructions and index have not been approved by the WSBA Board of Governors as official WSBA policy or documents and should not be identified or disseminated as such. The sample jury instructions and index do not constitute legal advice or recommendations and there is no substitute for careful review by attorneys and their clients. The drafters, the WSBA Construction Law Section, and the WSBA are not responsible for any use of the jury instructions and index.
Other forms
Settlement Agreement and Mutual Release of All Claims
Editable Versions of the Forms
Editable versions of the forms are available for Construction Law Section members via the Members Only Resources page. If you are a section member but do not have the log-in information, please email sections@wsba.org.
---
Newsletters
Fall 2020 │ Spring 2020 │ Winter 2019-2020 │ Winter 2018-2019
Fall 2018 │ Spring 2018 │ Winter 2017-2018
Archived issues are available to section members upon request. To request an issue, please email sections@wsba.org.
---
Executive Committee
The WSBA Construction Law Section Executive Committee generally conducts meetings on the second Wednesday of each month, noon-1 p.m. You may attend by phone by calling 866-577-9294 and using passcode 501655#. Please contact committee members for more details on their upcoming meeting dates and locations.
---
Join Our List Serve
To join the section list serve and for general section questions, please send your email address and bar number to sections@wsba.org. For more information and to get involved with the section, please contact Section Chair Colm Nelson.