Connect with Peers and Practitioners through WSBA's 29 Sections
Sections members become part of active professional communities and gain access to an array of exclusive section member benefits. Over 10,000 WSBA members currently belong to one or more of the WSBA's 29 sections. The section membership year begins Jan. 1.
Member Benefits
In the past year, WSBA Sections have sponsored approximately 70 CLE seminars and hosted multiple professional networking events around the state. Various sections offer a plethora of member benefits, including, but not limited to:
List serve communities
Newsletters, reports, deskbooks, and sourcebooks
Free and discounted CLEs
Opportunities to engage in the Washington state legislative process
...and more! Join a Section Today!
Interested in Section Leadership?
Each section is led by a group of volunteers who are elected to serve on the executive committee. Many find leading a section to be a rewarding experience because of the leadership growth, professional development, firsthand experience with the legislative process, and collegiality it offers. Executive committee discussions are productive and challenging, offering a unique opportunity to work with other legal professionals in a goal-oriented setting that benefits WSBA members and the greater legal community.

WSBA Sections are currently seeking section members to fill openings on their section executive committees for terms beginning Oct. 1, 2021. Consider applying to become a section leader!
For general sections questions, send an email with your Bar number to sections@wsba.org or call 800-945-9722.
---
WSBA Sections
Construction Law Section
Construction Law Section members share common interests on a wide variety of issues related to the construction industry and all aspects of government procurement.
Our membership includes a mix of attorneys in private and in-house practice, including assistant attorneys general who represent federal, state, county, local, city, school districts, hospitals and special-use agencies; private owners; contractors; engineers; architects; manufacturers; and suppliers.
Our members engage in a broad spectrum of business activities relating to contract drafting and negotiation; bidding processes; and all varieties of dispute resolution, including arbitration, mediation litigation, and bid protest. The section sponsors a yearly all-day CLE, publishes a newsletter and a members-only list serve, and meets several times a year for informal discussion with a special topic speaker, followed by a social hour.
---
The Spring 2021 edition of the Construction Law newsletter has arrived!
Read it here.
---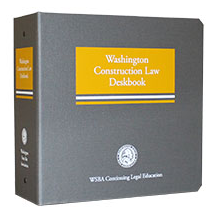 This single-volume ready resource on every facet of construction law was developed in collaboration with the Construction Law Section.
Editor-in-Chief: Ronald J. English
Editorial Board: Jennifer McMillan Beyerlein, John Evans, Brett M. Hill, Robert L. Olson, Thomas H. Wolfendale
Review table of contents and authors.
Subscribe to the online version.
---
Forms Available Online
Design Services Agreement
View the Construction Law Section's model Design Services Agreement.
Model Residential Construction Contracts
The Construction Law Section prepared these contracts as a public service to the construction industry and its residential consumers and contractors. For most people, their single largest asset is their home. Construction and remodeling of residences is a major industry in Washington. These model contracts were developed specifically for residential construction services.
The Lump Sum Contract, also known as a Fixed Price Contract: The owner agrees to pay the contractor a specified amount for completing the scope of work without requiring a detailed cost breakdown.
The Cost Plus Contract: The owner pays for the actual costs of the work, plus a fee for the contractor's services.
Model Residential Design-Build Contracts
The Construction Law Section is pleased to offer two new forms that can be used to provide a solid framework for projects in which a contractor performs both the design and build. These model contracts help homeowners and builders allocate risk and responsibilities.
Cost Plus Contract: Where the design-builder estimates the project cost, but the actual cost is ultimately determined by the total costs of design services, labor, and materials supplied by the design-builder.
Lump Sum Contract: Where one lump sum is paid by the owner as required by the contract.
Jury Instructions and Guide
Members of the WSBA Construction Law Section prepared the sample Jury Instructions as a courtesy, for section member use only. The sample jury instructions and index have not been approved by the WSBA Board of Governors as official WSBA policy or documents and should not be identified or disseminated as such. The sample jury instructions and index do not constitute legal advice or recommendations and there is no substitute for careful review by attorneys and their clients. The drafters, the WSBA Construction Law Section, and the WSBA are not responsible for any use of the jury instructions and index.
Other forms
Settlement Agreement and Mutual Release of All Claims
Editable Versions of the Forms
Editable versions of the forms are available for Construction Law Section members via the Members Only Resources page. If you a section member but do not have the log-in information, please email sections@wsba.org.
---
Newsletters
Fall 2020 │ Spring 2020 │ Winter 2019-2020 │ Winter 2018-2019
Fall 2018 │ Spring 2018 │ Winter 2017-2018
Archived issues are available to section members upon request. To request an issue, please email sections@wsba.org.
---
Executive Committee
The WSBA Construction Law Section Executive Committee generally conducts meetings on the second Wednesday of each month, noon-1 p.m. You may attend by phone by calling 866-577-9294 and using passcode 501655#. Please contact committee members for more details on their upcoming meeting dates and locations.
---
Join Our List Serve
To join the section list serve and for general section questions, please send your email address and bar number to sections@wsba.org. For more information and to get involved with the section, please contact Section Chair Colm Nelson.