Connect with Peers and Practitioners through WSBA's 29 Sections
Sections members become part of active professional communities and gain access to an array of exclusive section member benefits. Over 10,000 WSBA members currently belong to one or more of the WSBA's 29 sections. The section membership year begins Jan. 1.
Member Benefits
In the past year, WSBA Sections have sponsored approximately 70 CLE seminars and hosted multiple professional networking events around the state. Various sections offer a plethora of member benefits, including, but not limited to:
List serve communities
Newsletters, reports, deskbooks, and sourcebooks
Free and discounted CLEs
Opportunities to engage in the Washington state legislative process
...and more! Join a Section Today!
Interested in Section Leadership?
Each section is led by a group of volunteers who are elected to serve on the executive committee. Many find leading a section to be a rewarding experience because of the leadership growth, professional development, firsthand experience with the legislative process, and collegiality it offers. Executive committee discussions are productive and challenging, offering a unique opportunity to work with other legal professionals in a goal-oriented setting that benefits WSBA members and the greater legal community.

Executive committee terms begin Oct. 1, 2022, and sections accept applications for the following year in early spring. Consider applying to become a section leader!
For general sections questions, send an email with your Bar number to sections@wsba.org or call 800-945-9722.
---
WSBA Sections
Animal Law Section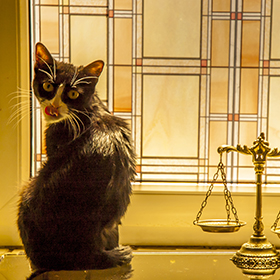 Animal law has quickly emerged as a specialty legal field in law schools (Harvard, Duke, Georgetown, Hastings, Rutgers, and the Northwestern School of Law at Lewis & Clark College, which publishes the Animal Law Journal). Animal-centered litigation appears more routinely on court dockets as pet owners sue to recover damages. Nationwide, legislatures debate the passage of bills addressing issues at the boundaries of human-animal relationships. In 2010 Carolina Academic Press published the fourth edition of a 780-page volume on animal law, the first casebook of its kind.
Animal law has useful applications for practitioners in many areas including landlord-tenant, criminal, wills and trusts, personal injury and tort claims, nonprofit organizations, agricultural, local government, and administrative law.
In addition to providing a forum for members to exchange ideas, study, and understand laws, regulations, and case law pertaining to all areas of animal law, initial goals of the Animal Law Section include:
Establishing an annual seminar and eventually a multistate MCLE animal law institute
Publishing an Animal Law Reporter for the Pacific Northwest or nationwide
Printing and distributing quarterly email or paper newsletters to section members, soliciting articles from practitioners, academics, and others
Producing animal law-related pamphlets for the public
Providing information to and facilitate cooperation with government agencies and nongovernmental humane societies, rescue organizations, and animal sanctuaries
Organizing brown-bag lunches and round tables to address animal law matters in a short time frame.
---
Executive Committee
---
Please contact subcommittee members for details on their upcoming meeting dates and locations.
For general questions, or to request archived issues of the section newsletter, please send your inquiry to sections@wsba.org. To get involved and learn more about the Animal Law Section, please contact the section chair, Leila Arefi-Pour.