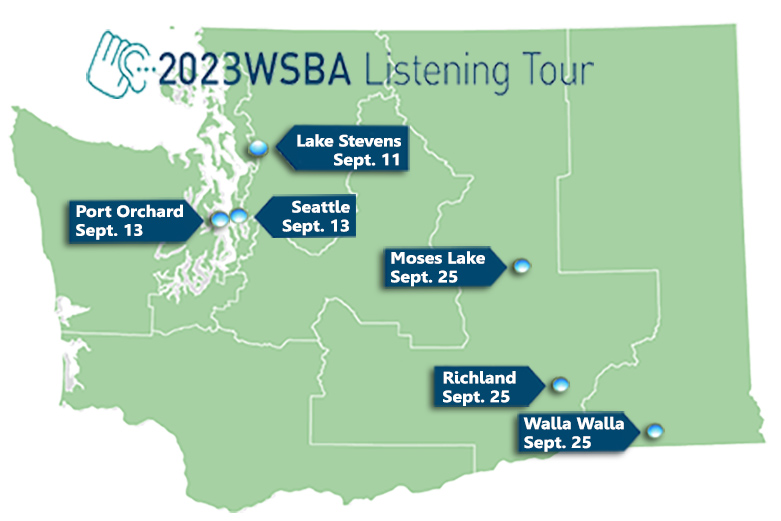 The 2023 WSBA Listening Tour
In our ongoing effort to listen to and engage with WSBA members, the Bar's President-Elect Hunter Abell and Executive Director Terra Nevitt, and local-district members of the Board of Governors are hitting the road in September for the 2023 WSBA Listening Tour. Join us to catch up, hear what's happening at the Bar, ask questions, and share ideas.
WSBA seeks to ensure the Bar of the future best meets your needs, the needs of the profession, and the public it serves. All WSBA members are welcome to attend. Your input matters, and we hope you'll join us at a stop near you. Please RSVP to barleaders@wsba.org.
Monday, Sept. 11
Snohomish County
5–6:30 p.m. at RAM Restaurant & Brewhouse, 9020 Market Place, Lake Stevens, Washington
Wednesday, Sept. 13
King County
Noon–1:30 p.m. at WSBA Offices, 1325 Fourth Ave., Suite 600, Seattle, Washington
Kitsap County
5–6:30 p.m. at Puerto Vallarta, 1599 SE Lund Ave., Port Orchard, Washington
Monday, Sept. 25
Walla Walla County
7:30–9 a.m. at Maple Counter Cafe, 209 E. Alder St., Walla Walla, Washington
Benton & Franklin counties
Noon–1:30 a.m. at the Richland Federal Building, Room 142, 825 Jadwin Ave., Richland, Washington
Grant County
5–6:30 p.m. at Casa Herradura, 211 N Elder St., Suite A, Moses Lake, Washington